Streamline Your Logistics with Prime Penguin: A Step-by-Step Onboarding Guide
Outsourcing logistics can revolutionize your business operations, saving you valuable time and money. With Prime Penguin, the process has never been easier. Our simple onboarding process will let you access an efficient and cost-effective logistics solution in just a few clicks.
This blog post will guide you through the simple steps of onboarding yourself onto the Prime Penguin platform, empowering you to optimize your supply chain management effortlessly.
Your 8 steps towards a seamless logistic solution
Step 1: Create Your Account
To begin your logistics transformation, visit our website and create your account by clicking here. After signing up, you will receive an activation email followed by another email containing instructions on how to access your account.
Step 2: Complete Your Company Profile
Use the login information provided in the email to access your account. As you log in for the first time, please choose a password and agree to our general terms and conditions.
Step 3: Integrate Your Sales Channels
Navigate to the left-hand menu bar and click on "Integration." From there, select "Sales channel" and choose the marketplace you wish to integrate with. Detailed instructions on this process can be found within the platform itself and in our knowledge Base.
Step 4: Connect with Stripe
Next, go to "Administration" in the left-hand menu, followed by "Subscription." Scroll down and follow the steps to connect your account with Stripe. This step is crucial for seamless financial transactions and smooth operations. But do not worry! We will not charge you until your trial period is over, and you will be notified before.
Step 5: Update Your Invoice Settings
To ensure accurate bookkeeping, go to "Administration" in the left-hand menu, then click on "Settings" and select "Invoice." Fill in your legal name, address, and VAT number as requested. These details will serve as the foundation for your financial records.
Step 6: Connect your 3PL 
To integrate with your third-party logistics (3PL) provider, go to "Connections" and then "Warehouse Connection" page. You will be guided through the process and can find more information in our Knowledge Base. If you do not have a 3PL, we are happy to find you one that fits your needs.To get connected to a 3PL in our network, go to "Services" and then "Procurements" to receive a quote.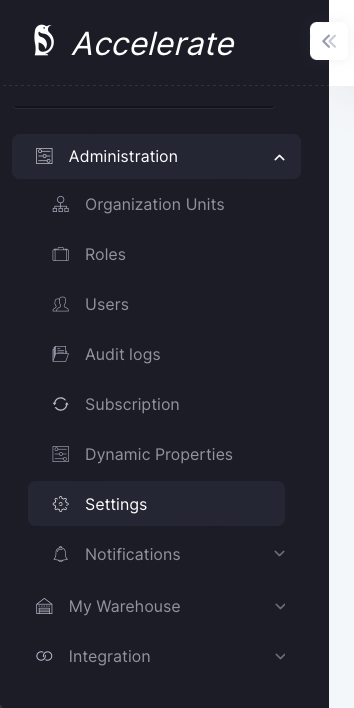 Step 7: Product mapping
After connecting to a 3PL, customers should visit Integration > Product mapping page and set a default mapping. By doing this, you make sure that the right product is handled by the right warehouse. Product mapping will not only decrease shipping costs, but also give better control over your stock.
Step 8: Schedule an Onboarding Demo
As the final step in the onboarding process, we invite you to book a digital meeting with one of our team members, who will guide you through the various offers and functions available on the Prime Penguin platform. To make the most of this session, we recommend exploring the platform and familiarizing yourself with its pages and features beforehand. You can conveniently book your onboarding demo by clicking on the link provided here.
Conclusion
Congratulations! By following these straightforward steps, you are now well on your way to transforming your logistics management with Prime Penguin. Our user-friendly platform and dedicated team are always available to assist you with any questions or concerns you may have along the way. Embrace the ease and efficiency of Prime Penguin's logistics solution and unlock new opportunities for growth in your business. Start your journey today and experience the benefits of streamlined logistics like never before.