Total E-Commerce Logistics Cost Breakdown
The opportunity to sell online has enabled many brands and products to reach their audience. E-commerce has also proven to be a great way for companies to reach their customers directly in a D2C (direct to consumers) model. A model that lets brands remain in control over factors like pricing and communication without the need for wholesalers. This fairly new and often cost-efficient way of selling and marketing products has meant great benefits for consumers and companies alike. Such as price transparency, greater product selection, and more personal brands.
Anyone today can start an e-commerce business on their own with very limited resources and knowledge. But all come to a point where their own time is not efficiently spent, especially in their logistics operations. 
All eventually come to a point where their capacity is reached. It can be hard to get a full overview of all costs, time, and resources spent on managing and handling your e-commerce operations. 
As an owner, you might take on the role of manager, developer, packer, picker, and administrator. Instead of saving costs by doing it all on your own, your e-shop might end up with higher total costs. In e-commerce management, there are several costs that are not always clear and often overlooked. 
Whether you are starting a new business and want to build an efficient supply chain ready for growth. Or, if your current set-up has reached its capacity and you are ready to take the leap to outsource your logistics. Either or, it is hard to get a full understanding of all the costs associated with your e-commerce logistics being handled by a third-party (3PL) provider. 
Apart from understanding what costs are involved in the actual handling of your logistics. There are several other costs that you might overlook when comparing different services. 
Here is a full breakdown of all the costs associated with your logistics handling. Including all the hidden costs that many e-commerce companies forget to include in their analysis.
Cost of a 3PL fulfillment solution
1. Cost for receiving and managing incoming goods:
Receiving goods at any given moment and having able bodies to store the goods properly is not always an easy task. This requires your company to be on call for when large shipments are ready. with a 3PL partner, all shipments can be delivered and stored properly and fast with trained personnel. The cost you pay is often a price per hour it takes for the team to receive, and safely organize all the different products for easy packaging. 
2. Order management cost:
The cost for handling each order is always very clearly stated in a contract with a 3PL. It is the time cost of labor for each order to be processed, packed, and sent. Depending on the type of product and packaging requirements, the time for handling will differ. But after that agreement, the price will always be the same. Dealing with professionals in an optimal environment. A 3PL provider is often an efficient solution as opposed to training and managing in-house staff. In addition, you will have peace of mind in knowing that there is a guaranteed quality standard in place.
With an outsourced solution, you can be assured that all orders, made through any online sales channels will be correctly and automatically routed to the optimal warehouse. This can save time and effort for companies to manually receive and check orders before they can be processed. A lot of time can be saved and the risk of "human error" can be decreased by the use of a modern interface for all order management. 
3. Warehousing and storage fees:
Warehousing at a third-party fulfillment center is generally priced per pallet or shelf in use. That means you are only paying for the space your stock requires at any given moment. As opposed to having in-house storage where you are less flexible with meeting fluctuations in supply and demand.
A business often pays a monthly fixed fee for pallets and shelf storage, if your shop sells smaller items this cost will be lower per item, and higher if you require more space per product in storage. Some 3PL providers specialize in an industry of product category that requires different handling depending on the size and weight of the product. These skilled logistics partners with experience in your specific industry can be the optimal solution for your supply chain. 
Quantifying 3PL costs in a case
To help you get a better understanding of the actual costs involved in outsourcing fulfillment. Here is a fictive case of a typical lifestyle e-commerce store and an example price quote for reference.
The fast-growing e-shop Prime Beauty is a direct-to-consumer (D2C) brand. They started small from an in-house solution with a Shopify online store. As orders are beginning to increase, their small but dedicated team is struggling to keep up. They decide to request a free price quote from a 3PL via Prime Penguin's trusted network. Since most of their orders today come from Sweden they want to start with one domestic 3PL partner. They currently have an estimated order volume of around 900 orders per month. All costs are in USD.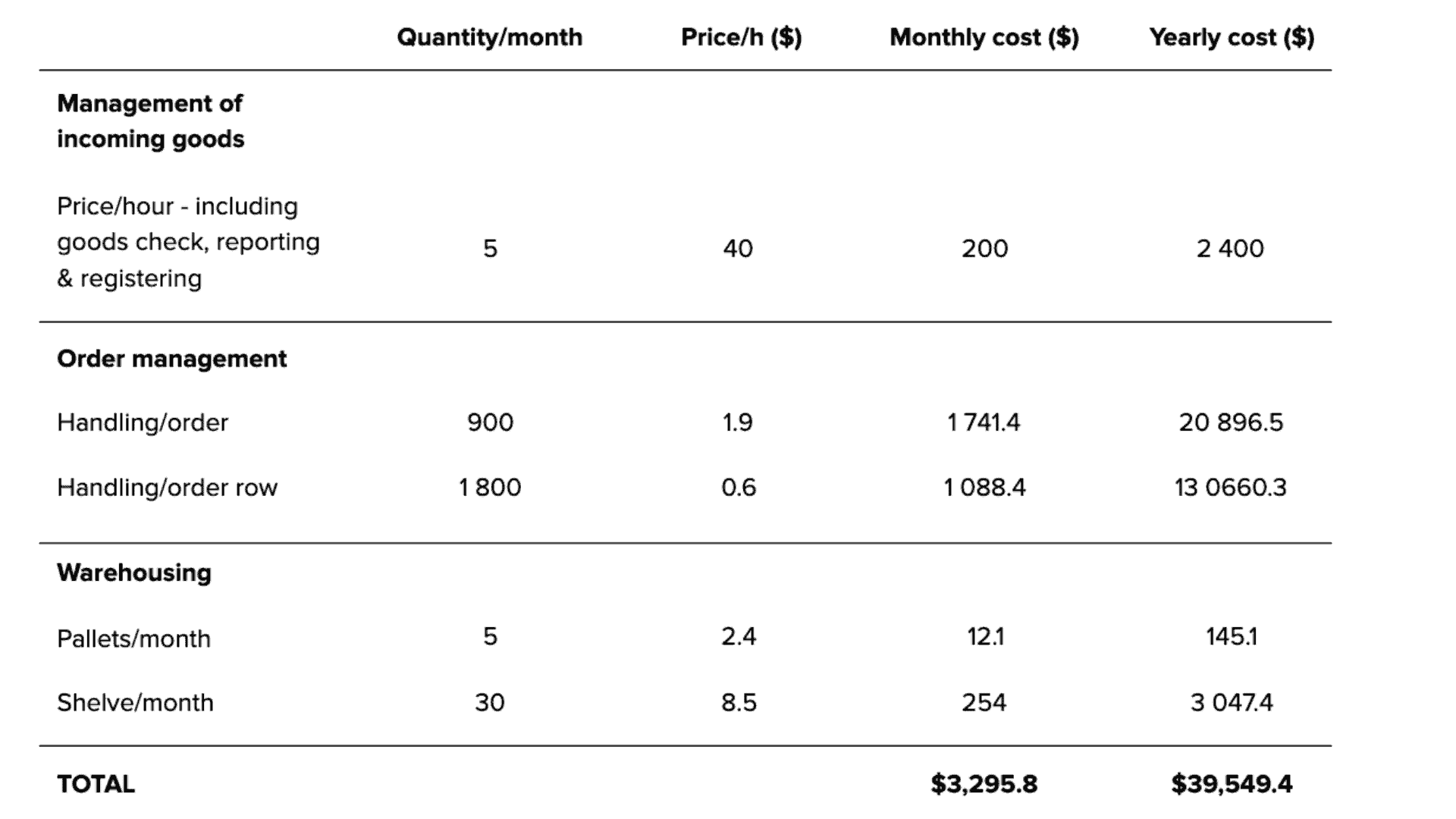 The cost for a 3PL is pretty straightforward but calculating the potential loss in time and money of these factors can be trickier. This is why they are often overlooked. 
Hidden costs in e-commerce logistics
1. Cost for integrations:
Ecommerce businesses that have an omnichannel strategy have higher customer retention, and more opportunities to expose their brand to potential shoppers. Selling through multiple platforms and connecting all orders to a smooth flow is a powerful strategy in e-commerce. This includes own or third-party webshops and sales through marketplaces. 
Many e-shops are unaware that there is a cost and a technological complexity involved when setting up new integrations. It is important that the routing of orders from all platforms is working correctly and are synchronized with your order management operations. For every sales channel or warehouse connection, the correct technical setup is required. Usually, there is a cost involved for technical work per new integration. Integrations can also take time to start working properly and customizations come at an even higher cost. Where your business ends up paying more in the end than if you had a solution that meant an endless number of integrations.
2. Cost for developer's technological expertise:
E-commerce is an online business. Yet today most brands can open up a store with limited technological knowledge through the help of smart online tools and SaaS services. However, when an e-commerce business encounters technologically advanced setups they require skilled developer work. Consultants can quickly get expensive. Receiving the right qualified help, exactly when you need it, and at a reasonable price can be difficult. Not having in-house developers or access to trusted partners is also a risk factor. If anything urgent goes wrong in your order flow with your logistics setup or the order taking, this can prove very costly to your business. Including issues like upset customers or lost sales. 
3. Cost for errors or inefficient order management:
What many e-shops overlook as an actual cost that will hit their margins is the effect of inefficient or faulty logistic flows. E-shops can save a substantial amount of time and money by automating their logistics operations from the very start. Poor inventory management can result in several high-cost outcomes that can be avoided by access to real-time data and reporting. 
This includes high holding costs of inventory that reduce cash flow and increase the risk of holding obsolete inventory. Or could result in missed sales from holding too little inventory. Investing in order management software like the Prime Penguin Platform is an inexpensive way to get control over your e-commerce logistics. A long-term solution is always to be preferred over quick fixes or cheap solutions. These often tend to cost you more in the end. 
With the correct integrations and software, all orders will also be double-checked and any discrepancies will be brought to your attention before any costly issues arise. Each order is also analyzed and optimized to the most efficient warehouse by smart order routing algorithms.
It is important that all e-shops take the time and effort to evaluate the total cost of the logistics operation. Many of the costs for technological support and inefficient flows can be avoided by using a trusted logistics partner and a robust technological solution.
Contact us today to know how your logistics cost can be reduced.
Ready to Get Started?
Find out how Prime Penguin can help elevate your fulfillment flow and take your e-commerce business to the next level. We are always looking to take on new challenges and build customized solutions for customers worldwide.